Today, November 29, 2022, International Women Human Rights Defenders Day, we celebrate the strong and courageous women who form the backbone of the struggle for a more just life.
This article presents the stories of Teresa Castellanos, member of the People's Front in Defense of Land and Water Morelos, Puebla, Tlaxcala (FPDTA), Maricela Vázquez of the Paso del Norte Human Rights Center (CDH PdN) in Ciudad Juárez, Carmen González (pseudonym) of the Bosques de San Elías Repechique community in the Sierra Tarahumara of Chihuahua and Judith Gonzáles of Alianza Sierra Madre A.C. (ASMAC) also in Chihuahua. All of them have in common that they are women that PBI proudly accompanies in their struggles for the defense of territory and human rights here in Mexico.
Teresa Castellanos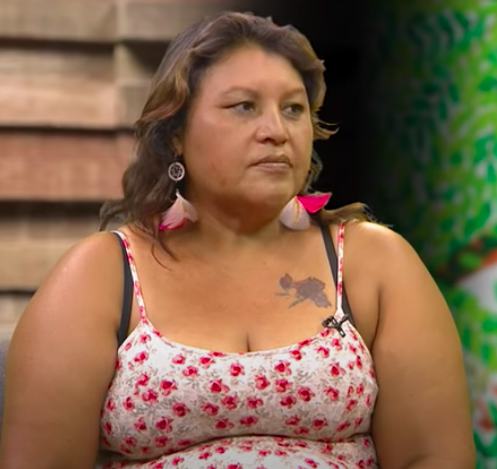 Teresa Castellanos of the FPDTA in Huexca, Morelos, is an example of women who come to resistance against megaprojects, thanks to a deep understanding of the value of life and the need to join movements that fight for well-being, and thus ensure a future for our sons and daughters. During her approach to the resistance against the hydroelectric dam and all that the project imposed on indigenous territory implies, Teresa was beginning to understand that oppression was not only experienced on large scales, but also in the home.
"I realized that I was being violated by my ex-partner and that my daughters were in danger."
Narrating the story of her involvement in the movement, for which she and her family have suffered threats, allows us to see what the attacks against women defenders have in common:
Despite her current recognition as a key woman fighter in the resistance movement, her rise to this role has not been easy. Women defenders face not only the daily machismo of society, but also the rejection of their leadership by political organizing movements. Tere faced comments that questioned her convictions, that questioned her political motives, saying that she was just looking for men. However, she gradually gained the trust of her peers.
"They saw me as a woman who was taking a stand and who was firm in what she wanted. Suddenly this machismo that was so ingrained in the community was going away."
Maricela Vásquez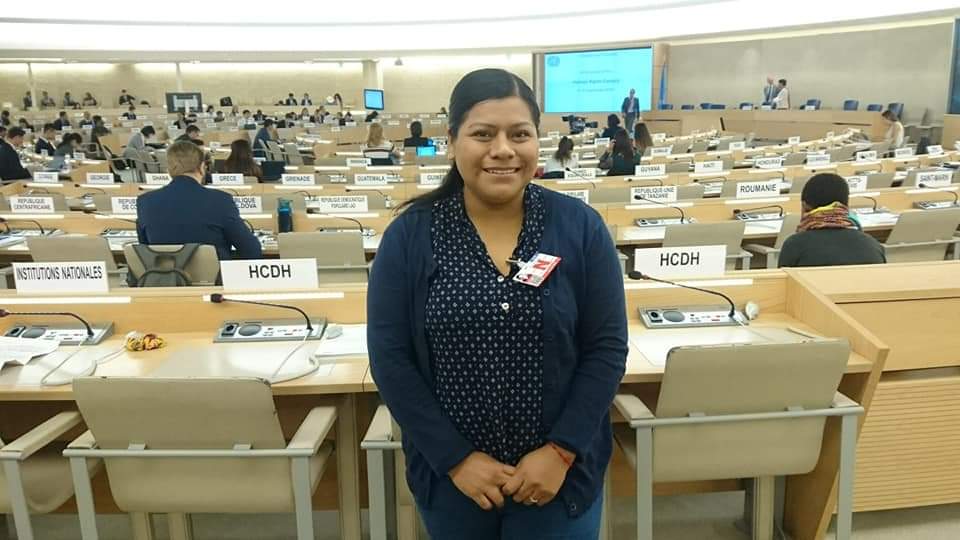 Maricela, lawyer of CDH PdN was recognized, in 2017, with the Sir Henry Brooke Awards for Human Right Defenders in the United Kingdom. She began her struggle already years ago in the field of human rights, defending the rights of indigenous communities, although for the last 5 years her field of action has been that of justice in the search for missing persons, one of the great challenges in terms of human rights that Mexico has today. Her interest in defending the rights of the most vulnerable and unprotected people is what led her to this work and she stays there because she feels it is her vocation and conviction.
"There are very sad moments, moments full of despair, but there are also those that give you food and that are the families, they are and will be the most important and who encourage me to move forward."
For Maricela from PdN, the great challenge is also working with the authorities, who she considers to be the main barrier to her work. Her organization has had to file several complaints with the Public Prosecutor's Office for obstructing their investigations. Having to confront authorities to defend the cases is what keeps her awake at night:
"What frustrates us, what fills us with resentment, hatred, is the authority itself, how they don't do things, how there is no interest, no will, if there was a will to clarify the cases, we would be talking about something else."
Carmen González
Carmen is a native of a Rarámuri community in the Sierra Tarahumara, she spent a long time working in the city but since returning to her community she realized that there are many problems and needs. Participating in the community assemblies she felt she had to be part of the defense. She fights for what she feels, for her family, for her granddaughter.
"Some compañeros told me, sign up, and they invited me to go to Chihuahua with them and I said, yes I have time. I was encouraged to join this defense because my mother was also participating and that finished her off. It made me angry and very sad at the same time, that my mother would end up in this struggle and I said: well, I'm in too".
In Carmen's case, she gets discouraged when she feels that she does not understand some legal issues and how difficult it is to make other members of the community understand the struggle. In many cases her community also feels fear in the face of threats.
"I have to make an effort to encourage everyone, some feel very sad, there are many threats, we don't live in peace, they are worried about the girls. If we denounce, they don't pay attention. They come to take you away because you are a defender. They threaten us that if we say anything they will take us away or throw us out.
Judith Gonzáles
Judith works in the communications area of the organization Alianza Sierra Madre (ASMAC), which supports various communities in the Sierra Tarahumara in Chihuahua in the defense of their rights. She also comes from an indigenous community in the south of the country and grew up watching her mother participate in the struggles of indigenous peoples. She began her career in the field of human rights as a reporter, and saw that what most appealed to her were the issues of land and territory, despite the fact that there was hardly any opening for these issues. For her, the defense of territory is also a struggle for dignity. Now, the Sierra feels like her home.
Judith feels that because she is a woman and very young, the authorities, who already do not pay attention to civil society organizations, do not pay as much attention to her, as if she did not have enough knowledge of what she does. For this reason, she believes that it is very important to document herself well and not stop raising her voice to denounce what is happening.
"We will continue to speak out until we are heard."
Care Strategies
In this context of violence and impunity, many women defenders are forced to devise strategies to protect themselves from the risks involved in their work, which is not easy because it often means not sharing information and isolating themselves.
Maricela tries to keep her family away from the work, she knows it is risky and prefers not to involve them so that they do not have information about what she knows. Similarly, Carmen does not always share what she does and where she goes, she is aware that in her community she must walk long distances alone and that is a risk. However, she has realized the importance of having a support network.
"As people realize that you are doing good things, when they understand what you are doing, they support you, they don't leave you alone, they take care of you and warn you about the threats."
For Judith it is also very important to have a network. She understands that it is essential to seek spaces for communication with the team and with people close to her to reflect on what is happening around her work, and to be able to prevent possible risks.
"Sharing is a form of care because if I don't do it I would be stuck with these emotions, in these feelings. A network of accompaniment is very necessary, a network of people who know what I do and who have this space to listen to me."
Motivation and Inspiration
Faced with the daunting challenges they face, WHRDs draw on their motivation and draw inspiration from other WHRDs. As Maricela says, although sometimes reality overcomes them, the only thing they have left is to work, to know that they are on their way to something, even though they know they may not see the results.
"We are fighting for the horror of disappearances to change and end. Maybe our sons, our daughters, are the ones who will see the results. I have that objective, I am going to work and fight for that objective: that at some point my son, my daughter, will not see this atrocity. That's the only thing we can stand on."
Her inspiration is her own companions, "to see them with so many years of struggle, so whole, sometimes affected psychologically and emotionally, but embracing each other and giving each other strength." It also strengthens her to see the families in their struggle, walking with perseverance and faith.
Carmen wishes that the indigenous territories are recognized by a new law, that her community can see their territory titled and be allowed to live happily and peacefully. "I hope to see it before I run out," she says, and although she is not always so sure of what she is doing, she understands what she feels and acts accordingly "because when you are sure of what you feel, God sees that you are doing things right." Her sisters support and encourage her because they understand the meaning of her work, however, she also comments that "we need someone to guide us, sometimes we feel very alone" and in this sense she is grateful for the accompaniment of Consultoría Técnica Comunitaria, a Chihuahua civil society organization accompanied by PBI.
Judith hopes that the communities will achieve recognition of their territory and that the institutions will begin to treat indigenous people with dignity when they go to demand their rights. She wants to do her bit in her field of action: communication, and from there it fills her with strength to feel the enthusiasm with which people talk about their community and their territory, to see them becoming more and more independent in the defense processes they carry out in the city. "Also seeing the girls and boys happy is a big part of my motivation."
As references, Judith cites her mother, her friends and local activists such as the director of the organization ASMAC, Isela González and Ruth Fierro, a lawyer at the Women's Rights Center of Chihuahua.
Being a defender is a life commitment, it implies breaking the stereotypes set by patriarchal society in a context of structural inequalities, impunity, corruption, organized crime, misogyny, lgbtphobia, hate speech, extractivism, neoliberal policies and the closing of democratic spaces. Being women human rights defenders means facing a double violence, from our daily lives to our public actions, because of the fact that we are human rights defenders and because we are women.
Due to the multiple aggressions suffered by women defenders, they have identified several key tools such as interpersonal networks, self-care and empowerment as the basis of the protection process. In this way, they contribute to the construction of safe and trusting spaces to confront isolation, to take advantage of resources, tools and collective knowledge, and to strengthen the sustainability of movements and organizations based on sisterhood.
PBI will continue to accompany these women in their individual and collective struggles until they have the guarantees they deserve to defend human rights and advance towards a more just society.
English