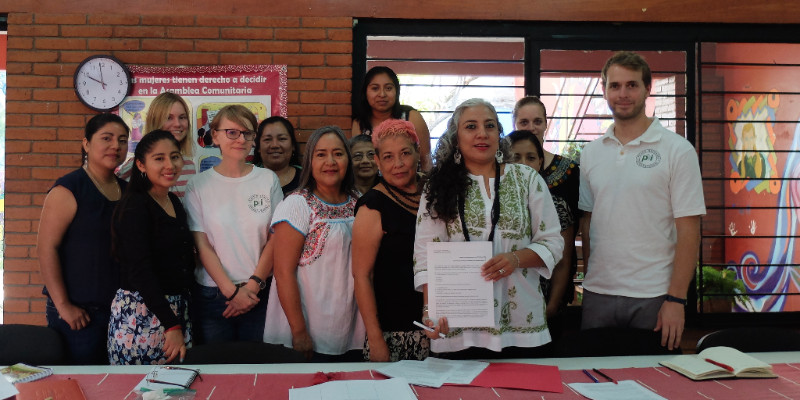 Formal PBI accompaniment of Consortium for Parliamentary Dialogue and Oaxacan Equality (Consorcio Oaxaca) began just over one year ago.
This organization works to promote respect for and the exercise of the human rights of women and gender equality.
A recent report by the National Network of Women Human Rights Defenders in Mexico (of which Consorcio is a member) documented that each week in Mexico there are at least four aggressions committed against women human rights defenders, making it one of the most dangerous countries in the Mesoamerican region for WHRDs.
According to the same report, from 2012-2014, Mexico was second in the region in terms of the number of aggressions perpetrated against women defenders – with a total of 615 aggressions.
According to the authors, violence against women defenders is increasing and in only three years attacks have increased by 261%.
In a joint press release with the Observatory for the Protection of Human Rights Defenders, Consorcio Oaxaca and other organizations highlight that in Oaxaca the number of attacks against WHRDs has increased by 300% from 2012 to 2015, putting the state at the top of the list in the country in this ranking.
In addition, they highlight the continuity and the upsurge in violence. At the national level in January alone there were at least 15 attacks against women defenders, double the cases registered in January 2016.
In a recent meeting between PBI and Yesica Sanchez from Consorcio, Yesica stated that because of their work the organizations suffers from constant harassment and risk "that includes raids, robbery, harassment, persecution, and the state´s failure to provide real protection" and that this has put them in a vulnerable situation while carrying out their work.
In addition, a year since the formal accompaniment began, the defender affirmed that, "PBI´s accompaniment provides certainty that we are not alone and that we have support to continue with our work, given that the state does not value our work and does not recognize the service we provide to civil society and especially to female defenders.
Without a doubt international accompaniment has strengthened our work in many ways."
English